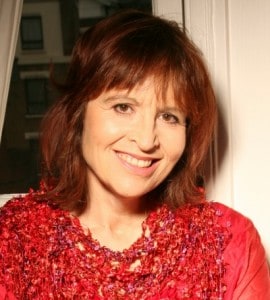 Claire Schrader started out in life as the proverbial wallflower with minimal confidence.  Until she stumbled by chance on an effective way to say goodbye to her life as a wallflower in a matter of a few months.
In her new book From Wallflower to Sunflower, she will inspire you to do the same so you too can move to the place where the "Sunflowers" (the confident people) live.
You will learn how to start building a totally new "You", the "Sunflower You" that has the capacity to shine without having to do anything.
The Sunflower Effect ™
This book tells how over 20 years Claire developed  The Sunflower Effect ™ an innovative and highly effective confidence building process based on her experiences and what has really worked for her clients. Her unique courses  have enabled many hundreds move from Wallflower to Sunflower and build a natural self-confidence.
She has committed her life to give hope to wallflowers in all walks of life  and that they can free themselves from this debilitating condition, and become the person that deep down they know they truly are.
In From Wallflower to Sunflower you'll discover
The secret that Claire discovered by chance and all ex-wallflower movie stars know about that has enabled them to put an end to their wallflower existence and achieve outstanding success in their lives.
The Courage to Change – how to get started walking on the path to a natural self-confidence – even if you have zero self-belief and low expectations of what you can achieve.
The nine stepping stones of the Sunflower Effect that if you practice this, will take you to lasting self-confidence.
How to Live your life as a Sunflower – tools and resources that will support you on the path to becoming the confident person you've always wanted to be
Receive these FREE bonuses when  you buy From Wallflower to Sunflower
3 part Mp3, Private video and pdf series entitled  "Confidence: the power of commitment"
Exercise series that if you practice regularly will almost guarantee your long-term success.
Exercise: Reversing the decisions that made you into a Wallflower.
Identify and dispel the powerful decisions that you made at an earlier stage in your life that is going to help you to say goodbye to your Wallflower identity for good
E-book: The Self Confidence Myth
A 50 page e-book with valuable additional information, exercises  to supplement the content of this book.
4 part MP3 series of experiential exercises entitled "Accessing your potential to become a fully-blossomed Sunflower"
This series of exercises will turn this short book much more powerful transformation machine.
Why are we giving you these bonuses for free? What's the catch?
There isn't one. Claire was once a wallflower and she knows how tough it is to deal with this on your own and so she wants to give you an extra helping hand.
Also Claire knows that saying goodbye permanently to the Wallflower is complex and not an easy thing to achieve – and it can't be achieved simply by reading a book, no book can, no matter how much it promises. If you've tried you will know this. However it can be much easier that you would think.
Rather than write a much longer book, which will achieve less, Claire wants to give you some real help. The bonuses will turn this short book into much more powerful transformation machine of experiential exercises. This too is going to give you a taste of what you might experience if you participate in The Sunflower Effect for real.
You can sign up here or on any page of this website.

Fill in this form to claim your
free bonuses
Your email is safe with us (spam-free). We will never share your email with anyone, for any reason.
From Wallflower to Sunflower – the quiet person's path to natural self-confidence
by Claire Schrader